Acne Studios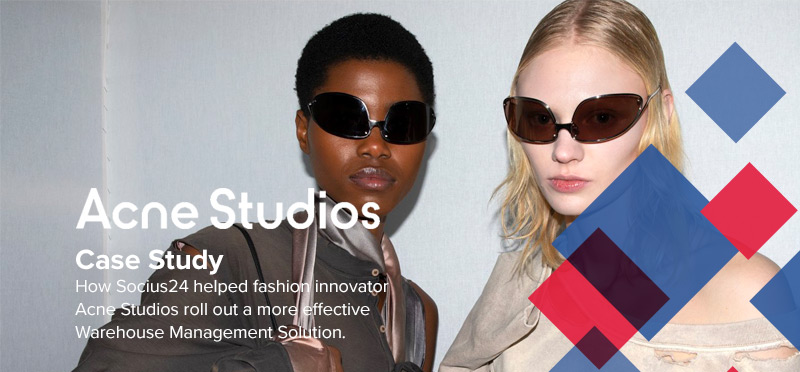 Acne Studios Case Study
"Many different parties were involved in our implementation and often it wasn't obvious how to address the challenges that came up, nor who could solve them. Socius24 proved to be the most pragmatic and solution-oriented party involved, so we turned to them to get the job done."
Johan Fredlund, Supply Chain Manager, Acne Studios
About Acne Studios
Acne Studios is a global, Stockholm-based high-end fashion house which was initially established in 1996, inspired by a global movement merging creative disciplines. The company's long-term ambition and drive is to become a global progressive fashion house fuelled by uncompromised creativity, first rate business execution with a sustainable mindset, and to be a truly inspiring workplace for new ideas, new expressions and personal development.
The company has a global hybrid distribution model – with 65 stores around the globe, Etail operations covering 65 markets, and 800 wholesale and franchise partners selling their clothing across 50 different countries.
Background
Acne Studios believe that technology is key for their success. It provides them with the digital agility to deliver a seamless Etail experience and the visibility and control to manage a global distribution model.
As they are innovators in many fields, the company initially developed its own Warehouse Management System (WMS). However, as the business grew exponentially and order volumes increased, they began to experience high rates of mispicks, inventory discrepancies, and inefficiencies with packing/outbound processes. Essentially, their business had outgrown their system and it was no longer fit for purpose.
Acne Studios wanted a fully functional system that they could scale up in the future to match their ambitious expansion plans. In July 2021 they selected Socius24 to help them implement the Blue Yonder Dispatcher Warehouse Management System (WMS) to address their growing needs.
Challenges
Acne Studios needed a WMS that could handle all of the 'in' and 'out' flows across their centralised warehouse operation. They needed to handle inbound stock from suppliers, cross-docking, picking and all of the outbound processes to their EU, APAC and North American markets across all of their sales channels (Retail, Etail, Wholesale and Marketplaces).
Acne Studios' stock is of high value, so knowing where it is at every stage of its journey is vital. The company is competing with best-in-class high-end fashion providers, so speed of delivery is both a competitive advantage and a general expectation of their international customer base.
It is essential that their warehousing operation is efficient, fast, flexible, and able to deliver on time both off-season and in peak season; this is only achievable with best practices supported by a best-in-class solution.
Solutions Delivered
Acne Studios selected Blue Yonder Dispatcher WMS for their warehouse system. They found this solution capable of meeting all of their needs and were reassured by the fact that the solution is being used by thousands of leading companies across the globe.
Key to this system decision was choosing Socius24 as their implementation partner. Socius24 brought real expertise into designing the solution for Acne Studios as well as unique advantage through their own User Service Portal (USP) that would be a key part of the delivered solution.
Outcome
Through their partnership with Socius24, Acne Studios now have a comprehensive solution that is robust, scalable, and tailored to their specific needs.
Blue Yonder Dispatcher WMS combined with Socius24's USP sits at the centre of Acne Studios global supply chain controlling, managing and reporting on inbound and outbound flows across all sales channels.
They are already seeing a positive ROI gained from the ability to handle larger volumes, improved process quality, increased customer satisfaction, and reduced business risk that were associated with their previous in-house solution.
PICKING AND PACKING – Dispatcher WMS has facilitated improvements, such as double scanning in the B2B outbound process (picking + packing), which has had a positive impact on the general shipment quality. They have seen a reduced number of mispicks and increased inventory accuracy. Other added functions include: now having a dedicated B2C return area, a faster order picking process, and an improved replenishment process of picking locations.
INCREASED VISIBILITY – Acne Studios now has visibility into their warehouse operations that can be accessed by a wider audience across the company. Socius24's USP has created a structured way for the warehouse team to collaborate with sales and sales admins and to arrange deliveries for customers according to their specific requirements.
INTUITIVE INTERFACE – The system Acne Studios now have in place has proved to be intuitive and easy to use. It has been quickly adopted by warehouse operatives and through an 'operational overview' dashboard, management have the real-time visibility they need as well as the ability to drill down on the detail.
Blue Yonder Dispatcher Warehouse Management System
Blue Yonder is one of the most recognisable and implemented solutions in the world.
Socius24's expertise comes from our involvement in the design and development of the original RedPrairie Dispatcher solution, which enables us to fast-track deployment and ensure that our clients use its capabilities to the full. This reduces the cost and risk of deployment, leveraging a broad set of pre-built templates and plug-ins, allowing our customers to quickly gain the functionality they require.