Socius24 is recognised as the 'Dispatcher WMS Customers' Partner of choice' sells, implements, upgrades and supports the Blue Yonder (formerly JDA and RedPrairie) suite of Supply Chain Software.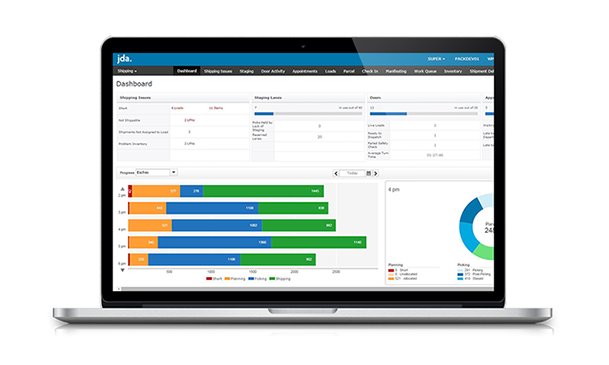 Blue Yonder WMS
Blue Yonder WMS Sales and Services Alliance Partner for The United Kingdom, Europe, Middle East and East Africa (EMEA).
SERVICES &

TRAINING

Providing Warehouse Management System implementation, professional services and support to the existing customers base across fifty countries.
PRODUCTS /

USP

Utilising our in-house developed software solutions (USP) improves your performance and allows increased functionality of Blue Yonder WMS.
The
Blue Yonder

WMS

The Blue Yonder (formerly JDA RedPrairie) Warehouse Management System is one of the most recognisable and implemented solutions in the world.
Global Management Systems
With more than 1,200 live sites in every type of industry across forty two countries.
World Class Business Solutions
When you implement Blue Yonder WMS you know you are using the system that world-class businesses large and small trust to run their warehouse operations.
Download Our Brochure Today!
Socius24 is backed by a team of experts providing WMS, Activity Billing, Warehouse Labour Management, Yard Management & User Service Portal (USP) software and services across the Globe.
Challenges with your
Supply Chain
Companies tell us that they face these challenges as they grow and their operations became more complex. You may be able to relate to one or more of these:
Manual Operating Systems
Using paper-based systems for receiving goods and handling distribution is slow, lacks the agility to respond to customer demands and can be costly.
Visibility
Companies that operate globally or have more than one site locally can find it difficult to manage stock efficiently and ensure smooth distribution to customers.
Track and Trace
Traceability is critical for all products, especially in the pharmaceuticals and food industry. Without a WMS it's hard to track where products are manufactured and sold.
Out of date WMS
Keeping your JDA RedPrairie/Blue Yonder WMS up to date and in line with 'best of breed' can be time-consuming and costly if not supported by an experienced team.
Interested in a free demonstration of Blue Yonder or USP?
Socius24. Warehouse Management Software Solutions
"Extending our WMS with Socius24's User Service Portal has delivered significant benefits to our operation, streamlining processes, adding value to our customers and removing administrative burden."

– Davies Turner

"The experience and the professionalism of the person performing the installation was outstanding yet little did we know at that point we were establishing a trusted partnership that has now lasted almost two decades and delivered significant value to our business."

– KWE

"The ability to extend the Blue Yonder Dispatcher WMS via the USP, has removed the need for costly and complex in-house solutions."

– Silk Contract Logistics

"Since the moment we started working with Socius24 some seven years ago, we have gained significant benefits from utilising the highly flexible and feature-rich Blue Yonder Dispatcher WMS. They have proved to be a partner that are truly experts in their field."

– Howard Tenens Logistics

"We are meeting and exceeding our business growth ambitions. We would not have been able to do so without Socius24 and Blue Yonder Dispatcher WMS."

– Pricecheck

'As Smart Garden Products are experienced existing users of Blue Yonder Dispatcher we needed specialist guidance and advice on our WMS relocation project and took the opportunity to enable further system functionality, Socius24 ably provided this support and advice."

– Smart Garden Products

"USP is so versatile it has allowed us to consolidate and control multiple processes within our operation under a single piece of software. USP makes our lives and certainly our customers far simpler."

– Lenham

"9 out of 10 – Would definitely recommend Socius24."

– PD Ports

"Socius24 responded to our needs quickly and expertly – nothing was too much trouble"

– DCS Group

 

"We found Socius24 a positive company to work with and their can-do attitude was key to meeting project deadlines"

– ATL

"Socius24 are reliable & very knowledgeable and easy to do business with"

– Smeg UK

"Kinaxia Logistics identified the need for a world class WMS and Billing solution. We selected the Blue Yonder system and their trusted partner Socius24 to implement it in line with our rapid project timescales."

– Kinaxia Logistics

"Each of our numerous clients have different demands and specific requirements from the WMS, which is so functionally rich and flexible that it handles them effortlessly"

– Synergy Retail Support

"I would completely recommend Blue Yonder WMS. It's capability of doing anything you want and also enabling you to do things you didn't think were possible"

– Saltrock

"Socius24 have been superb, in helping us get through the last couple of weeks and we owe you a great deal of gratitude. Please ensure the team understands how grateful we are for their dedication and continued support."

– Fat Face UK