Instarmac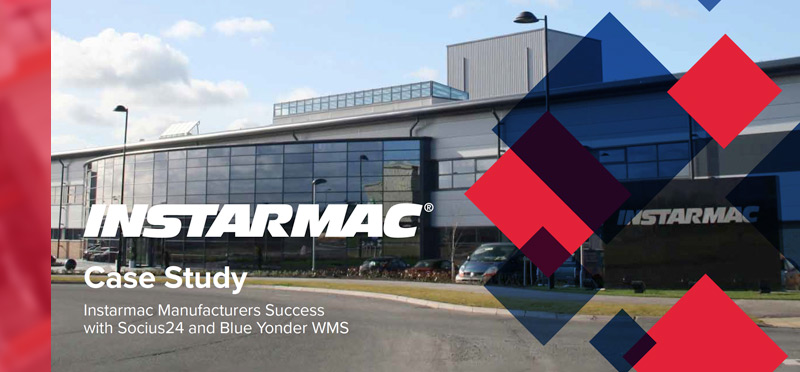 About Instarmac
Instarmac is a multi-award-winning company that for over 40 years has been manufacturing and distributing cement and bitumen-based products across 30 different countries. Employing over 175 people, Instarmac pride themselves on research, development and production of innovative material for use in highway maintenance, urban regeneration, tiling, commercial flooring and internal finishing markets.
Background
Invariably, Instarmac find themselves as a key part of mission critical projects and their reputation depends on being able to fulfil time-sensitive orders. For example, as a key provider of materials for highways, their customers rely on them to deliver materials onsite at the precise time for work to be completed. There is no room for delay as roads have been closed and work needs to be completed within agreed timescales with councils and government agencies.
Technology and Automation is key to streamlining every aspect of their business from aligning production to customer demand, through to ensuring that goods flow smoothly through the warehouse and their fleet of 37 trucks are reloaded and dispatched as efficiently as possible.
Challenges
The fundamental challenge that Instarmac was having with their legacy WMS was its' lack of integration with other systems and processes across
their operation. The solution managed parts of the process but did not span the full customer fulfilment flow from production to delivery.
As a result, many workflows required manual intervention, putting unnecessary pressures on staff and restricting their ability to focus on value added tasks. This lack of end-to-end integration also limited the holistic visibility that could be obtained from the operation and restricted the ability to drive continuous improvement across their processes.
With multiple products serving diverse specialist markets, Instarmac's business is not just unique as a whole, but has many operational nuances across their different lines. As such, flexibility is key and they were looking for a solution that provided a high degree of flexibility out of the box and could be tailored, by them, to fully align to the specific needs of their operation.
Solutions Delivered
Instarmac was looking for both a solution and a partner that could give them the highly configurable functionality from a WMS that they needed, that could cover every aspect of their production to deliver optimisation and provide the level of real time visibility into their operation they required. From their very first engagement with Socius24, it was evident that they had a wealth of knowledge and experience that would add value and clearly demonstrated to Instarmac how Blue Yonder (formally JDA RedPrairie) Dispatcher WMS was the right solution for their operation.
Outcome
With the invaluable support of Socius24, Dispatcher WMS is now managing the end-to-end customer fulfilment process for Instarmac, automating many tasks and providing unprecedented real-time insight into the operation.
THE BUSINESS
For the business, Instarmac has a solution that enables them to operate in a highly efficient and effective manner, with information flowing seamlessly between systems and with many processes automated. They have full control on how they want to work and a solution and partner that enables them to achieve this.
OPERATIONS
Instarmac are seeing benefits across their entire operation. Pick rates have increased both in terms of speed and workforce productivity. This has enabled them to get more advance work done, enabling Load Picking to be faster and be ready for when they are needed.
Integration of Dispatcher WMS into Instarmac's manufacturing system has created a more efficient and seamless flow of goods from raw material storage into the manufacturing process. After completion the finished goods are receipted back into the warehouse, ready for customer dispatch. This not only ensures that short lead-times can be met, but that an efficient JIT process for manufacture can be achieved.
Dispatcher WMS has released key staff from onerous manual work with many of these processes now being automated and enabling staff to manage mission critical workflows and do more value added tasks.
THE CUSTOMER
For Instarmac the 'cost of quality' is paramount. A missed order can be extremely costly both financially and in terms of ongoing customer loyalty. In the first six weeks of Dispatcher WMS being rolled out across all processes, Instarmac has seen a significant improvement in order accuracy and on-time delivery resulting in a 75% reduction in customer issues.
Blue Yonder Dispatcher Warehouse Management System
Blue Yonder is one of the most recognisable and implemented solutions in the world.
Socius24's expertise comes from our involvement in the design and development of the original RedPrairie Dispatcher solution, which enables us to fast-track deployment and ensure that our clients use its capabilities to the full. This reduces the cost and risk of deployment, leveraging a broad set of pre-built templates and plug-ins, allowing our customers to quickly gain the functionality they require.