How a Major Retailer Transformed Productivity With Voice Picking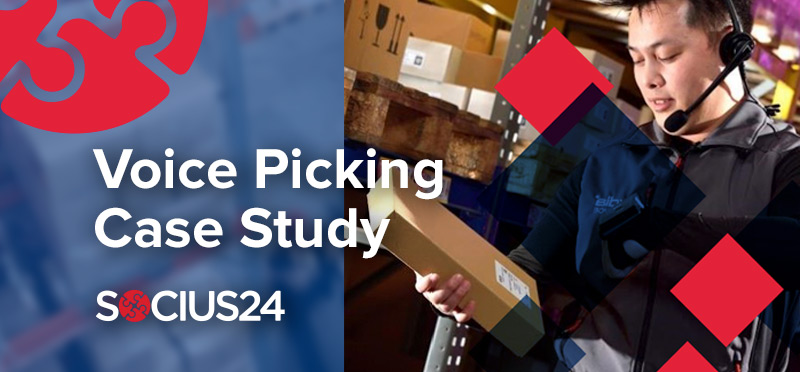 How a Major Retailer Transformed Productivity With Voice Picking
When a major UK High Street business needed to significantly improve their picking performance, they turned to Socius24 and EPG to voice enable their team.
Challenge
During the Covid-19 Pandemic a major UK retailer faced a significant challenge. With their High Street stores forced to close, the only way of serving their customers was through eCommerce, but this required a major change in their logistics operation.
Their two distribution centres were geared for the bulk shipping of stock to their stores across the country. What was now required was for these centres to be able to pick on a unit basis to fulfil online customer orders.
Implementing new and innovative technology was made even harder by the added challenge of social distancing and the need to keep equipment handling to a minimum.
Solutions
Working with Erhardt Partner Group (EPG), the retailer was looking to utilise the Lydia® Voice solution to support picking for their online customers. They saw this as the ideal solution to enable their staff to pick smaller quantity orders using voice. It allowed them to have both hands-free to handle stock and enable tasks to be completed far quicker.
With the retailer already using the Blue Yonder (BY) Dispatcher Warehouse Management System (WMS), EPG turned to Socius24 to assist with the seamless integration of the voice-based solution into BY Dispatcher WMS.
This allowed for all of the capabilities of BY Dispatcher WMS to be leveraged while providing the warehouse team with a highly efficient and intuitive interface.
Outcome
This swift change to voice-based picking has not only enabled this retailer to overcome the challenges of the pandemic but to continue to serve the needs of its customers in a highly efficient manner.
A 17% increase in productivity has been realised since the introduction of voice-based picking.
Moving from handheld barcode scanners to voice picking has increased capacity to 10,000 picks per hour, handling around 400 containers per hour.
Blue Yonder Dispatcher Warehouse Management System
Blue Yonder is one of the most recognisable and implemented solutions in the world.
Socius24's expertise comes from our involvement in the design and development of the original RedPrairie Dispatcher solution, which enables us to fast-track deployment and ensure that our clients use its capabilities to the full. This reduces the cost and risk of deployment, leveraging a broad set of pre-built templates and plug-ins, allowing our customers to quickly gain the functionality they require.